Explore the Sandy Beaches of the Mississippi Gulf Coast
When one thinks of Mississippi, magnolias, sweet tea, and country music may come to mind. Those were definitely some of the things I thought of when my fiancé Caleb told me that he was born and raised on the coast of Mississippi. Little did I know that the coast was such a hidden gem. The first time I went there I only went for a couple of days, but even on my short stay I was wowed by the beauty of the beaches, architecture of the buildings, and the friendliness of the locals. To say the least I had to go back. Almost a year later and I finally got my chance.
Reasons to visit:
About the Gulf of Mississippi and why you should visit:
Gulfport is within a 45-minute drive from New Orleans and is situated between Biloxi and Long Beach, two other beach towns. Biloxi is known for its lively night scene, its casinos and pristine beaches that draw thousands of tourists every year. Gulfport on the other hand, is more geared towards the slow pace of local life and it's also known for its live music scene. Other surrounding towns are Ocean Springs and Bay St. Louis. On my recent trip to Mississippi I got to explore all of them.
The Mississippi Gulf Coast consists of multiple small beach towns that have their own sights and entertainment. Each town is only a few miles from each other so it's easy to visit multiple places in a day.
Since it's not as popular of a vacation spot as other beach towns, it's still fairly inexpensive to visit, yet you still get all of the attractions, perks, and entertainment of other popular beach spots.
The Gulf Coast stays warm to hot for most of the year, with only January and February being cold months, this means you can book a beach trip throughout most of the year.
Day 1
On our first day we explored downtown Gulfport and got lunch, of course I had to order some of the coast's famous gulf shrimp. After exploring downtown we decided to head back home and relax until the evening, we were told that El Saltillo had some of the best Mexican food in town, so we had to make a trip for dinner. Still full from lunch, I decided to order authentic Mexican style tacos. It was delightful and a pleasant surprise to get authentic Mexican cuisine. After dinner Caleb and I decided to walk off our food babies and go for a walk around Biloxi and explore the nightlife. Since both Caleb and I aren't big into casinos, we decided to walk around the beach. We sat by the water and watched the shrimp boats pass by and catch their last batch for the night. This was so romantic and peaceful. The much needed calm and quiet was a lovely change of pace from the hustle and bustle of Atlanta, and listening to the ocean waves put us in a place of ease and relaxation.
Things to do and where to stay in Biloxi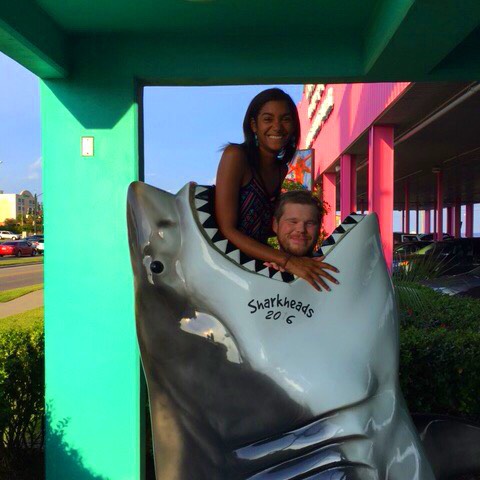 Night Life: Biloxi draws tons of tourists each year with its popular casinos. Not into slot machines and black jack? No problem many of the casinos offer much more. With live music, plays, nightclubs, and five star restaurants, there's sure to be something for everyone. Some of Biloxi's more popular casinos are the Beau Rivage, Golden Nugget, and the New Palace Casino Point Cadet.
Biloxi Beach: Go on a romantic sunset walk, or spend a beautiful day on the beach and rent chairs, umbrellas and water gear to make your beach day extra fun.
Ohr O'Keefe Museum of Art: Are you ready to get cultured and experience some of the work of local artist? Then the Ohr O'Keefe Museum is the right place for you. Built by the famous architect Frank Gehry, the art museum consists of different parts (the ceramics center, three art galleries, and the reconstructed home of Pleasant Reed).
South Beach Biloxi Hotel: Decorated in an art deco style, this hotel sits right on the beach and is close to all of the entertainment and nightlife of the casinos.
Day 2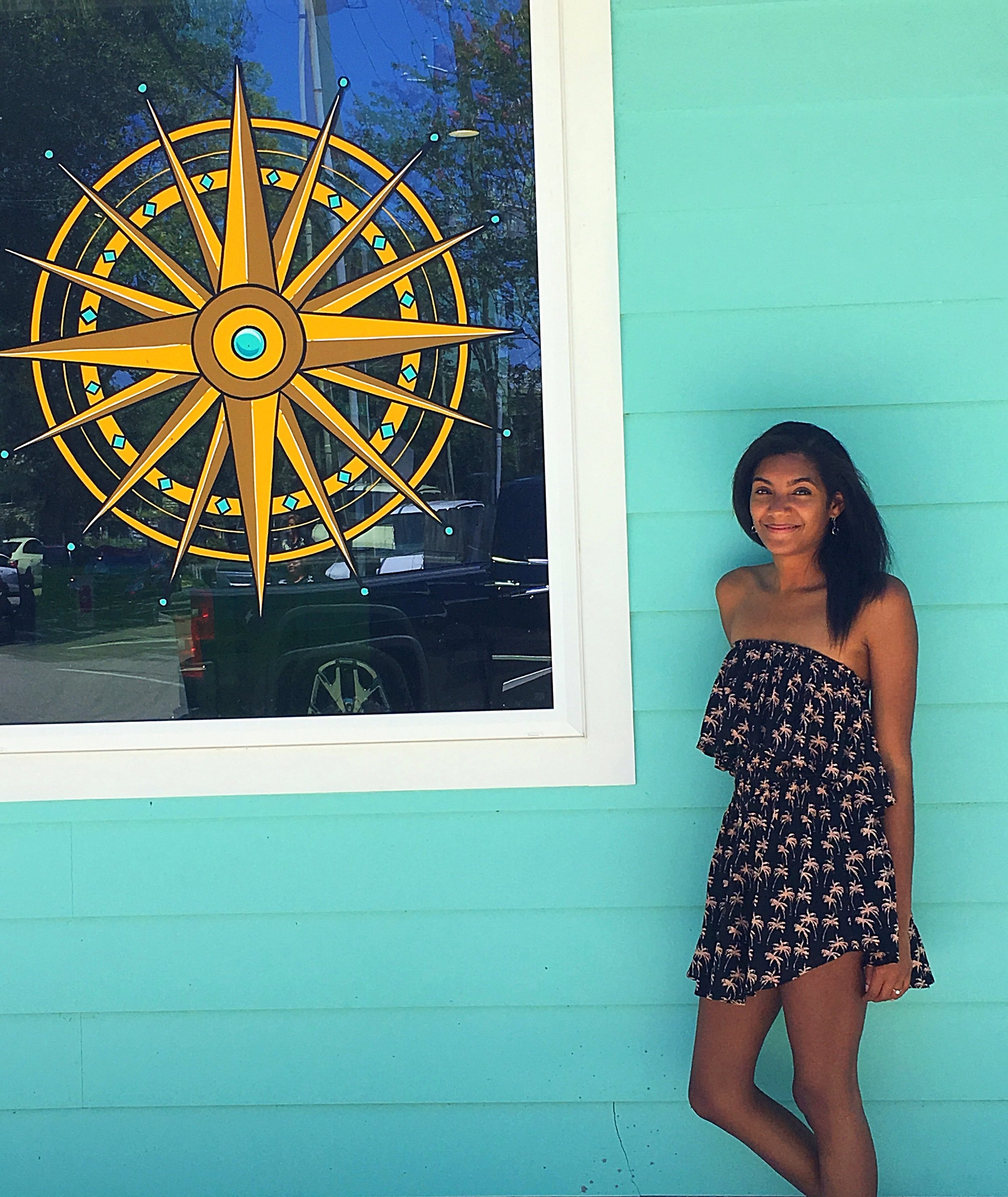 After a good night's rest we woke up early to get breakfast at Buzzy's in Ocean Springs. Decorated like a beach house, Buzzy's is a locally owned breakfast joint named after the owner's rescue dog. They serve traditional American breakfast foods, with a southern twist and what a treat it was! Bellies full and on a mission to see as much of the coast as possible, we decided on exploring some of the nearby stores. The charming downtown streets of Ocean Springs are lined by oak trees, and locally owned businesses, making it difficult for you to not stop and visit all of the little shops. While exploring we came across the Tato Nut, a quaint yet popular donut shop. The sweet smell of donuts greeted us as we opened the door to the store, as well as the friendly staff behind the counter. With my first bite of a glazed donut I immediately knew why this was such a popular spot, the fluffly donut and glaze practically melted in my mouth. If you're in Ocean Springs, I recommend you stop by the Tato Nut. Here are some other great places to visit in Ocean Springs.
Things to do and where to stay in Ocean Springs
Knowing that the coast is known for its live music scene, Caleb and I made it a point to check out some of the live music bars in downtown Gulfport's Fishbone Alley. This funky Gulfport alley is host to many bars/restaurants that feature many live bands every night. Our first stop was at The Jazz Bar, and as the name suggests it's a bar/restaurant that caters to the Jazz enthusiast. When we stepped into the dimly lit space we were welcomed to the smooth sounds of a live jazz band. We ordered some drinks at the bar and settled in. After listening to a few songs and finishing our drinks we decided to go check out some other venues. We found a nearby restaurant called Murky Waters and they too had live music. This time around it was a 70's cover band. Being able to have the option to listen to so many different types of music was a great experience and made our night exciting. Whenever we stepped foot into a new place we didn't know what type of music or crowd to expect. Gulfport isn't only known for its live music but there are plenty of other entertaining things to do in this town. Check out my list of fun activities to do in Gulfport.
Things to do and where to stay in Gulfport
While driving around the Mississippi Gulf Coast you are bound to spot street vendors and farmers selling fresh fruit and vegetables out of the back of their pickup trucks. Caleb always used to tell me that the watermelon on the coast is the best, so we stopped on the side of the road and met this awesome guy. He showed me how to find an extra ripe watermelon by flicking my fingers on them and listening to the sound. It was definitely an adventure picking my very first Gulf Coast watermelon, and it was seriously some of the best watermelon I've ever had. Caleb has turned me into a believer.
Day 3
On day three of our trip we decided to wake up early again so that we could have a relaxing day on the beach in Bay St. Louis. Bay St. Louis, another pretty beach town, is situated between Pass Christian and Waveland and is less of a tourist destination than Ocean Springs or Biloxi. We wanted to go to the beach early before the sun got too hot and planned to have enough time to check out the downtown area afterwards. After spending some time on the beach we made our way into downtown Bay St. Louis to get some food at Triple Tails, a three-story beachfront restaurant, with amazing views of the ocean. I ordered a traditional po boy with fried shrimp and fries as a side. Po Boys are a traditional staple of the Gulf Coast and are usually served on a crispy French baguette with fried shrimp, oysters or meat.
The food was excellent and after we finished our meals we headed out to explore downtown Bay St. Louis. We got lucky, because there happened to be an artist market that day so we got to look at some of the artwork from local artists, and listen to live music. The weather was absolutely perfect for this and we had a blast. Bay St. Louis is also home to art galleries and antique shops and we enjoyed searching for treasures among all of the awesome finds. We ended our day with ice cream at Purple Banana, a cute ice cream/smoothie shop downtown.
Things to do in Bay St. Louis
Bay St. Louis Beach: This calm and peaceful beach is the perfect getaway from all of the touristy beaches on the coast. It is within walking distance of downtown Bay St. Louis so it's easy to grab a bite or drink after a relaxing beach day.
Bay St. Louis Little Theater: It might not be Broadway but this little theater shows the heart and soul of the community of Bay St. Louis, and is a popular spot with the locals. Come and experience one of the plays, with superb acting, and local food, you will not be disappointed.
Trapani's Eatery: This cute restaurant boasts beautiful views of the bay, and has an extensive seafood menu. From crawfish to Tuna, there's sure to be something for any seafood lover.
Day 4
On day four of our trip, it was time to say goodbye to this idyllic little beach region. We had such a blast on this trip, and we got to have some much needed relaxation. We ended our trip with some coffee from Coast Roast, a coffee shop in Gulfport that roasts their coffee on a vintage Royal coffee roaster. Can I say awesome?! This being our last stop we said our farewells and got back on the road. Homeward bound to the ATL! We'll most definitely head back to the coast again and spend some more time on the beach! Who knows we might even swim with some dolphins!
Shop ThEse LookS: